ASK ME ABOUT MY WICK
WOODEN WICKS COME STANDARD WITH ALL VESSEL SYD COLLECTIVE CANDLES.
WOODEN WICKS ARE ECO-FRIENDLY AND CLEAN BURNING WITH A SOOTHING CRACKLING SOUND.
NOW THAT'S SOME BIG WICK ENERGY.
WICK + CANDLE CARE INFO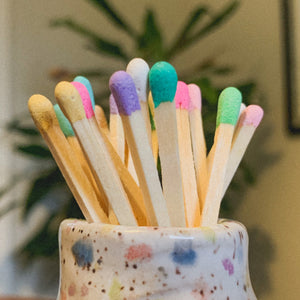 THE CERAMICS COLLECTION
NOW PROUDLY OFFERING MULTI-USE CERAMICS HANDMADE FROM START TO FINISH.
Candles in ceramic vessles
Bud Vases and Match Strikers
Trinket Trays and more!
SHOP NOW
SOY FRESH, SOY CLEAN.
WE USE ALL NATURAL, SOY WAX AND PHTHALATE-FREE FRAGRANCE OIL IN ALL OF OUR CANDLES.
ENJOY A LONGER, CLEANER BURN.
SHOP CANDLES